awards
2012  Clear Waters, 40" x 66"
SOLD
(paint and fibres on denim jeans)
Talent Next Door, Kitchener: Blue Ribbon
Made for the Guelph Rotary Dream Home lottery 2011, this piece was selected by curator Joanne Poluch for the prime position over the fireplace.

2008 Closer Than She Appears, 22" x 22"
(acrylic on canvas)
Touched by Fire, Toronto: Best in Show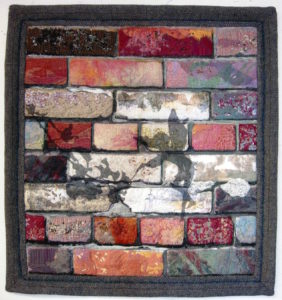 2007 Shadow Fairy
(quilt)
Grand National Quilt Show, Kitchener-Waterloo Art Gallery: Special Honorable Mention

2006 Forest of Ties, 70" x 38"
Insights, Elora:, Fibre Art Prize
This quilt was a birthday commission. Henry had worked all his life for Ontario Hydro, and after retirement, had bought and operated a sugar bush. For his first day of work at Hydro, he purchased a handwoven woollen tie at Eatons, for $1.25. He became known for his woollen ties, and never wore any other type. When he was turning 90, his wife, who had cared for the ties all his working life, decided to have them made into a piece of art. Forest of Ties is made up of 1" x 1" squares, all cut from his ties, and was inspired by the maple trees in autumn near where we live. It was lent back to show at Insights Art Show (Elora Arts Council) the following year, where it won the Fibre Art Prize.

2004 The First Garden Party, 29" in diameter
(quilt)
Threadworks 2004: Best in Show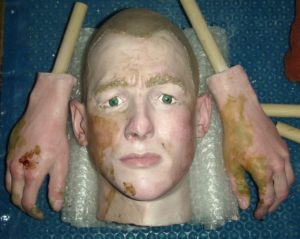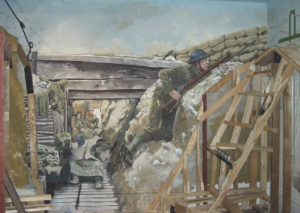 2002 Mannequin head and hands, and Trench Mural in progress, Far From Home: A Soldier's Life at the Front 1914-1918
(WWI trench exhibit at the Wellington Country Museum & Archives: AWARD of Merit for Exhibition & Design, Ontario Museums Association (trench, murals and four mannequins)

2001 The Paint by Number Gift Set, 12" x 12"
(acrylic on canvas, with palette & brush)
The Toy Show, Art-in-Guelph Gallery: the Wyndham Arts Award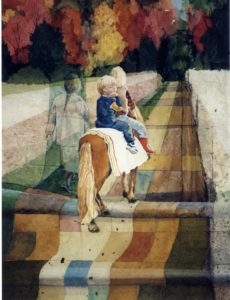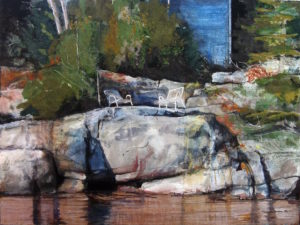 1998 On Their Own (Best in Show) and Cottage Patio (People's Choice Award)
Expressions '98, Guelph Creative Arts Association